Visionary Approach in Foreign Exam Coaching: StudyLab
We first designed websites so that our brand StudyLab, which strives to provide the best education for its students, could reach the right audience. For students and parents to receive accurate information, we have organized the information we receive from our brand in accordance with the brand identity. We carried StudyLab to the top with search ads and SEO studies. We supported the proactive stance of the brand with our new-generation digital business card, Main Card. In this way, we have ensured they have sustainable, environmentally friendly, and constantly up-to-date business cards.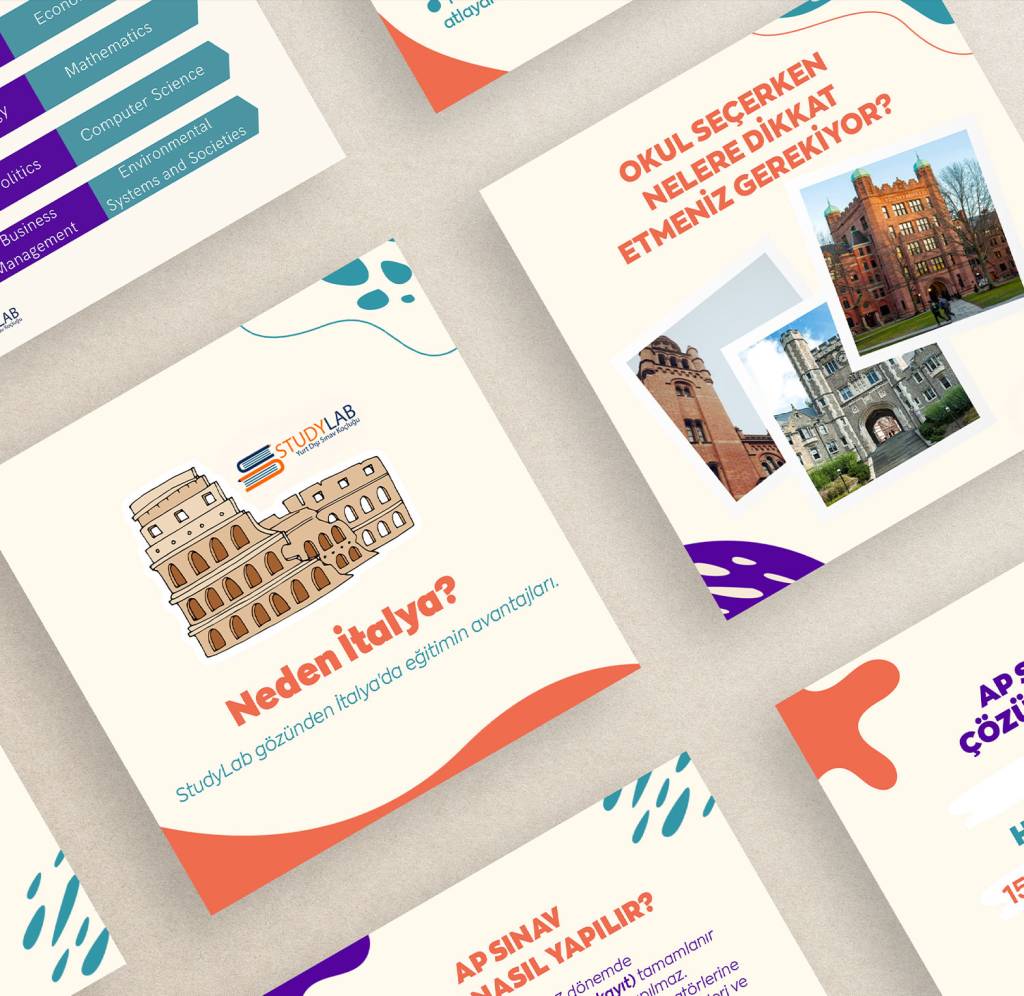 With our brand StudyLab, which provides lessons and consulting services to people who want to continue their education abroad, we have conducted studies to speed up the business processes of the brand. In addition, we have customized CRM programs so that our visionary brand, which works with competent people in the field, accelerates the in-house operation and ensures business follow-up.
We planned Instagram ads to increase your visibility on social media. At the same time, we provided both SEO and Google AdWords support by performing the website setup.
StudyLab and Zumu Studio Collaboration
Our work with our brand is generally about speeding up business processes, getting efficient feedback, and increasing brand awareness. We have brought our brand to the broadest and most accurate target audience possible so that more students can achieve their dreams. In addition, we provided software support for faster progress in internal communication and business process follow-up.
Our brand, which got rid of traditional business cards with our digital business card service, once again showed how much it cares about the future. We are happy to work with StudyLab, which works hard to help young people get the education they want. We planned Instagram ads to increase your visibility on social media. At the same time, we provided both SEO and Google AdWords support by performing the website setup.
Website
While making our brand's website, we used a design that would reflect the corporate culture and fulfill the sectoral requirements. We entered the training and consulting information provided by our brand on the site and continue to update it. We have endeavored to create a user-friendly website where parents and students may find answers to their questions. With the help of several blog entries, we searched for the answers to your queries. With the website advertisements we provided via Google ADS, we elevated the website to the top of the search results. In addition, we offered blogs that are SEO-friendly to facilitate this approach.
Customized CRM for the Enterprise
We have made a customized CRM program for the brand so that StudyLab can manage customer relations more effectively. In this way, we aimed to make his relationship with his students solid and sustainable. With the support of CRM, which strengthens its relationship with its students and potential students, we have enabled StudyLab to manage its activities more effectively.
Social Media Management
We have created a design language that will reflect the corporate culture on social media. After analyzing the education sector, we made the color palette to reflect the corporate and energetic brand spirit. We have created content using this approach so that followers can learn more about the topics they are interested in. In addition, we have written educational material regarding the company's many training programs.
Ad Management & Google ADS
With social media ads, we increased the visibility of our brand on Instagram and brought it closer to the target audience. At the same time, we increased visits to the website and moved it up in search results thanks to Google AdWords. We provided effective and fast access to the right audience. In this way, we positively impacted our brand's sales and increased brand awareness and reliability.
Digital Business Card
We are aware of the value placed on the future by our training and consulting brand, which aids in the aspirations of young people. We provided them with a digital business card solution because we believed it would assist their futuristic viewpoints. We enabled NFC-enabled business cards to transfer information to business contacts faster. Furthermore, we accelerated the brand with new generation digital business cards designed in accordance with the brand's corporate identity.
We are working to ensure that the work we provide for our brand complements one another.In this way, we aim to further increase brand loyalty by strengthening the brand's voice in the digital world.
Leverage Zumu Studio's Digital Support
In every area, we aim to address our businesses' digital needs. We combine our expertise in several domains with the support we offer in the software, design, and marketing areas. We hope to accomplish influential work in this way. We have experience in many different disciplines due to our variously sized enterprises working in other industries. We design this experience to help our brands develop and succeed.
Take your brand's image in the digital world to the next level by having the digital solutions we offer as Zumu Studio. With expert assistance, you may quicken corporate procedures and improve digital communication. Visit our works page to discover our other works and partnerships with various brands.