Our Work Beyond Borders: Home in Montenegro
We first provided shooting and production services for our brand Home in Montenegro, operating in Montenegro. After the shooting, we created our brand's Instagram profile with images compatible with each other within a particular flow frame by editing the photos. We prepared a stream that not only focuses on products and services but also highlights the beauties of Montenegro, thus ensuring that the followers are informed about the country. We have designed the advertising we carry out for our brand in a way that can promote both our brand's Airbnb houses and our projects, such as Casa Montenegro.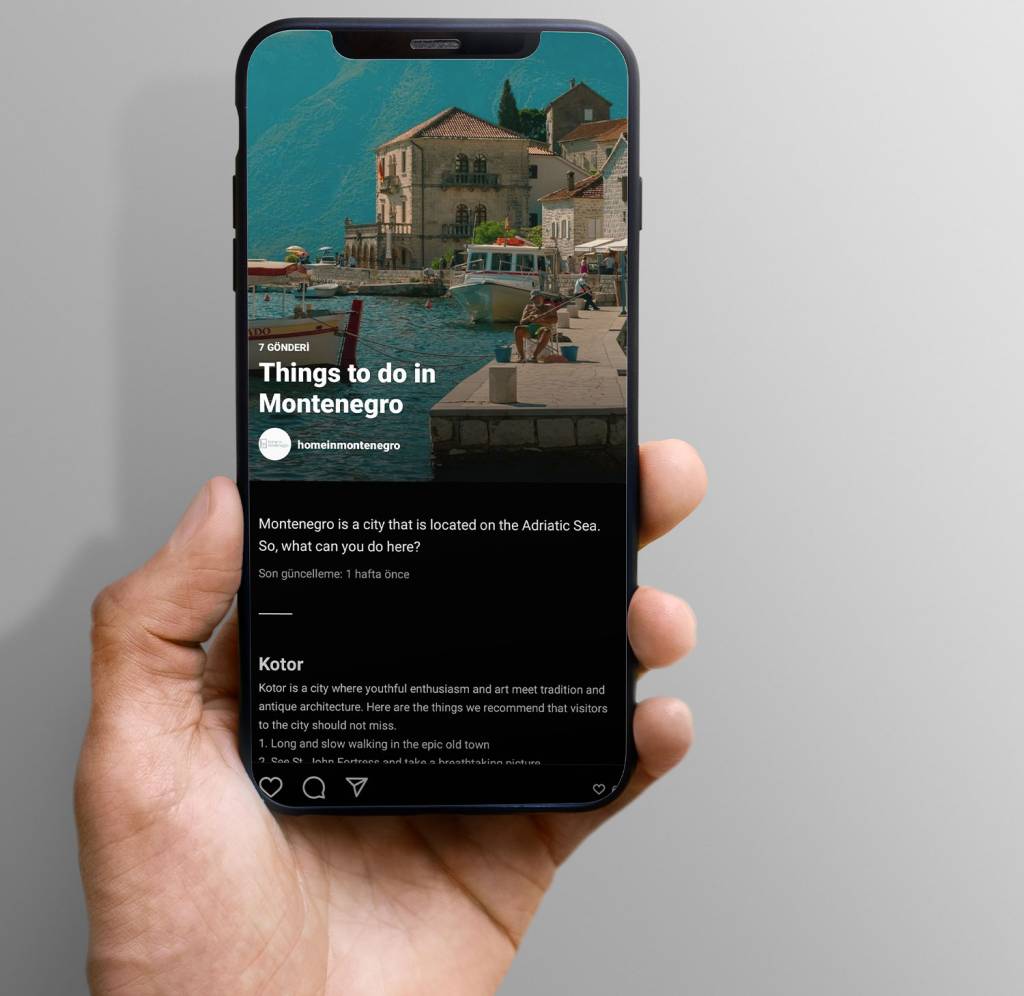 We have completed numerous projects with our brand Home in Montenegro, which operates in Montenegro and combines the fascinating Adriatic Sea view with the historical texture of Balkan geography.We carried out these studies in line with the brand's digital visibility and the goal of increasing sales.
While working towards the goal, we were inspired by the beauties of Montenegro, where the company is located. We enriched the Instagram profile with content in different areas, such as places to visit and activities in Montenegro. We also supported our value-added content with various advertisements.
What we did for Home in Montenegro
We have moved to the country with our brand, which provides services in areas such as real estate and property management. Our first meeting with our brand was when we offered shooting support for a project involving the samples. We set off by agreeing on a single service with our brand. Afterward, we continued to see SEO-compatible articles in both Turkish and English for the management of social media profiles, social media ads, and websites. So how exactly did this process work?
Shooting & Production
We shot photos and videos for the Casa Montenegro project of our brand, which has won many awards for its projects in the fields of real estate and property management. During the shoot, we did not ignore the wishes and preferences of our brand. Instead, we resolved the company requests by adapting them to the platform rules so they could be used as they should be.
We did model shoots, drone shoots, architectural shoots of projects, and shoots of Airbnb houses. At the end of the shooting in Montenegro, we made the necessary color adjustments to the photo and video content. This way, we made it available on social media profiles, YouTube, digital advertisements, and websites.
Social Media and Advertising Management
We first determined the brand language we would use for the Instagram profile of Home in Montenegro. While doing this, we analyzed the brand culture, target audience, and competitors in detail. While constructing the language of communication, our primary goal was to bring together the historical atmosphere, cultural heritage of Montenegro, and the intertwined nature and modern lines of Europe. Next, we determined the design language within this framework. For this reason, we preferred pastel colors that refer to nature while creating the color palette. We combined social media designs by using fonts with curved lines. Later, we made the filter samples, Instagram highlight covers, and grid diagram using all these components.
We forwarded the presentation we created from different designs to our brand and moved on to the selection stage. Together with our brand, we found the design we thought would be most suitable for Home in Montenegro. Then, using the Instagram Guide feature, we enabled the brand to show helpful content to its followers.
Search Engine Optimization
We conducted the keyword research separately for social media and websites. We have prepared Turkish and English SEO-compatible content for our brand's website. We aimed to provide readers with detailed content that explains the brand's projects and services.
We want the work we do for our brand to feed off of each other and grow the brand ecosystem in this way.We carried our brand to a higher level by using methods that support each other and strengthen the brand culture, rather than disjointed campaigns.
Rise Up With Zumu Studio
Our brand started working with us by requesting only one of the Zumu Studio services. Later, as he discovered his needs, he preferred to benefit from our other services. You can also review Zumu's other software, creative, and marketing services to get professional support in the digitalization process of your brand. If you wish, you can buy a single service or purchase the service packages that we have created for you in a way that they feed each other. As Zumu, we work to elevate your digital appearance. We are here to help you with our expertise in different fields and our visionary sight.
Choose Zumu Studio to solve all of your brand's digital needs under one roof. You can contact us via our website or our Instagram profile if you need professional support.